TORONTO, ON, June 28, 2019 – Strike Copper Corp. ("SCC" or the "Company") is pleased to announce that it has completed the acquisition (the "Acquisition") from Interbanc Capital Corp. ("ICC" or the "Vendor") of its interests in and to the mining property known as Sungold located in the Shebandowan Greenstone Belt (the "Property"). In consideration for the Property, the Company issued 10,000,000 Common Shares in the share capital of SCC to the Vendor at a deemed value of $.10 per share.
The Property, which consists of 293 boundary and standard cell claims covering approximately 5,800 ha. was acquired for a number of reasons. First, it is located in the Shebandowan Greenstone Belt adjacent to Wesdome Mines Ltd.'s Moss Lake property with its 43-101 proven resource of 3.2 million oz Au (comprised of Indicated Resources of 1.4 million oz Au and Inferred Resources of 1.8M oz Au). In addition, the property is just approximately 110 km west of Thunder Bay, Ontario and 31 kilometers southwest of the village of Kashabowie and has year-round road accessibility.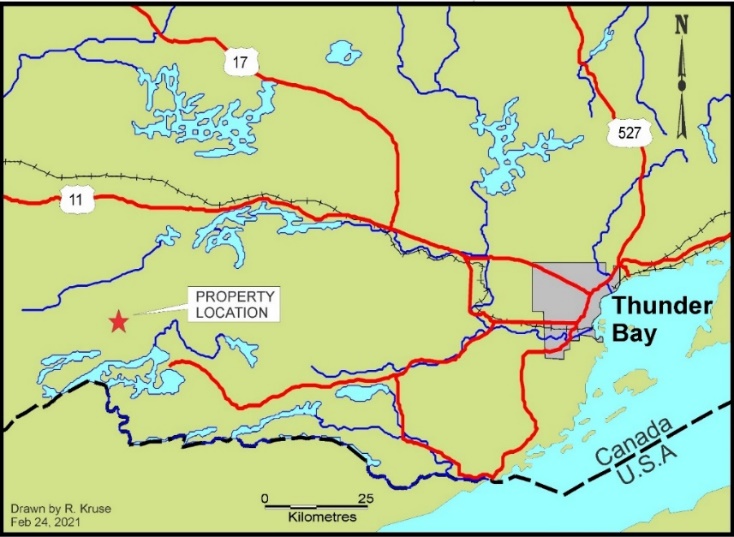 Equally important, are the copper, gold and other resources that have been identified on the Sungold property, particularly at Wye Lake and at the Hamlin Occurrence. Finally, the timing of the acquisition is impeccable, particularly because of the burgeoning, long-term demand for copper in all manner of advanced and renewable technologies including electric vehicles and power-generating windmills as well as most consumer electronic products such as computers and televisions.
Exploration History
The earliest recorded work on the Property occurred in 1956 and 1958, with the discovery of the Ray Smith copper-gold occurrence and the Redfox Lake copper occurrence by prospector Ray Smith and Cominco Ltd., respectively. Nickel-copper-oriented exploration work targeting the mafic and ultramafic intrusions, was completed by Falconbridge Ltd., Inco Ltd., Cominco Ltd. and Mining Corporation of Canada on the Property during the period of 1956 to 1973.
In 1989, exploration programs involving diamond drilling were completed on the Home Lake copper-zinc occurrence by Home Lake Resources and on the Redfox Lake copper occurrence, by Wye Resources. Freewest Resources Canada Inc. acquired the property in 2002 and initiated integrated precious and base-metal-oriented exploration programs. In March of 2005, Freewest announced the discovery of high-grade volcanic-hosted, zinc-copper sulphides at the Wye Lake occurrence resulting in an Independent Price Verification (IPV) of $54 million, according to a March 2005 report by John Kaiser, a well-regarded resource sector analyst.
In same period, at the Hamlin Occurrence, a distinctive highly altered granite-like breccia was traced by prospecting and geological mapping over a 4.5 kilometre strike length and over widths of up to 400 metres this field season. The breccia was found to contain locally appreciable chalcopyrite and heavy magnetite as breccia filling; the clasts were characterized by moderate to intense sodic, hematitic, potassic and calcic alteration. Grab samples collected from the breccias assayed up to 6.30% Cu, 1.50 g/t Au and up to 187 ppm Uranium. Interestingly, several of the samples returned anomalous uranium values that historically, were unknown in this part of the Shebandowan greenstone belt. Preliminary observations and analytical work was suggestive of an iron oxide-copper-gold-uranium style of mineralization analogous to the Olympic Dam deposit in Australia, the world's largest uranium deposit.
Adjacent Properties
There are two deposits of note that are in the vicinity of the Sungold property. These are the past producing Huronian Gold Mine, currently being explored by Kesselrun Resources Ltd. and the aforementioned Moss Lake gold deposit recently explored by Wesdome Gold Mines Ltd.
The historic Huronian Gold Mine produced 29,629 oz Au and 172,376 oz Ag from 1932-1936 and is currently being explored by Kesselrun Resources Ltd. ("Kesselrun"), which acquired the property in August 2016. Kesslerun's data compilation work revealed the potential of the property with historic drill intercepts of: 4.9 metres of 75.26 g/t gold in the Fisher Zone and 3.0 metres of 10.67 g/t gold in the McKeller Zone. The Fisher and McKeller Zones are on strike from, and form part of the same mineralized system, as the Huronian Mine.[1]
The Moss Lake property, owned by Wesdome Gold Mines Ltd. hosts the Moss Lake gold deposit, a large tonnage-low grade deposit amenable to surface bulk mining methods. The deposit hosts Indicated Resources of 40 million tonnes at 1.1 g/t Au totalling 1.4M oz Au and an additional Inferred Resources of 50 million tonnes at 1.1 g/t Au totalling 1.8M oz Au. A 43-101 Preliminary Economic Analysis dated May 31, 2013, yielded an after tax net present value of $276 million and an after tax IRR of 15% at a Canadian dollar gold prize of $1,629 per ounce (5% discounted).
The Moss Lake deposit has been extensively drilled at 15 to 50 m spacing over a 2.5 km length and to depths of 300 m. However, the last exploration program was conducted in 2016 and 2017 by Wesdome along the strike extension of the Moss lake deposit The widely-spaced drill program was successful in expanding patchy low-grade mineralized zones 1.6 km to the northeast along strike of the Moss Lake deposit. In 2017, Wesdome completed an induced polarization survey over the combined properties and have traced the potential extensions of pyrite mineralization associated with the Moss Lake Deposit. The geophysical expression extends over a strike length of 8.0 km.
In 2016, Wesdome completed the acquisition of mining properties adjoining the Moss Lake property. The Company acquired from Canoe Mining Ventures Corp. ("Canoe Mining") a 100% interest in the Coldstream Project ("Coldstream") and the Hamlin-Deaty Creek Property ("Hamlin"), which flank the Company's Moss Lake property The acquired properties include the former producing Coldstream Mine and East Coldstream gold deposit and their potential untested extensions.[2]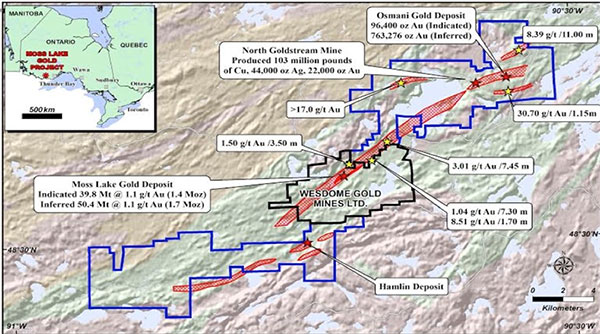 [1] https://www.kesselrunresources.com/news/kesselrun-resources-closes-acquisition-of-huronian-gold-project/.
[2] https://www.wesdome.com/operations/moss-lake-property/.
About Strike Copper Corp.
Strike Copper Corp. ("SCC") is a junior mineral exploration company currently focused on defining and monetizing the resource potential of its Sungold property in the historic Shebandowan Greenstone Belt just 85 km west of Thunder Bay in Northwestern Ontario. The 15,000-plus acre Sungold property is adjacent to a 43-101 proven 3.2 million Au resource held by Goldshore Resources Inc. ("Goldshore"). The property also includes the massive sulphide Wye Lake occurrence and the southeast extension of Goldshore's Hamlin IOCG (iron oxide-copper-gold-uranium) deposit, which has the potential for Ni-Cu-PGE and Porphyry Cu mineralization. SCC is a related party to Interbanc Capital Corp., Tashota Resources Inc. and Trojan Gold Inc. due to having directors-in-common. For further information on the Company, visit www.strikecoppercorp.com
ON BEHALF OF THE BOARD,

Charles J. Elbourne,
President & CEO
For further information, please contact:
Charles J. Elbourne, President & CEO,
Strike Copper Corp.
82 Richmond St. E. Suite 401
Toronto, ON M5C 1P1
C: 416-315-6490
O: 647-350-6122
Email: This email address is being protected from spambots. You need JavaScript enabled to view it.
Website: www.strikecoppercorp.com
Cautionary Note Regarding Forward-Looking Statements and Information
This release contains "forward-looking statements" within the meaning of applicable Canadian securities legislation. Forward-looking statements include, but are not limited to, statements regarding the impact and implications of drill results of the Company; the timing and amount of estimated future exploration and success of such exploration activities; and the anticipated results of the Company's plan to develop and implement a drill program at its Sungold project. Generally, forward-looking statements can be identified by the use of forward-looking terminology such as "plans", "expects" or "does not expect", "is expected", "budget", "schedule", "estimates", "forecasts", "intends", "continue", "anticipates" or "does not anticipate", or "believes", or variations of such words and phrases or statements that certain actions, events or results "may", "could", "would", "will", "might" or "will be taken", "occur" or "be achieved". Forward-looking statements are made based upon certain assumptions and other important facts that, if untrue, could cause the actual results, performance or achievements of the Company to be materially different from future results, performances or achievements expressed or implied by such statements. Such statements and information are based on numerous assumptions regarding present and future business strategies and the environment in which the Company will operate in the future. Certain important factors that could cause actual results, performances or achievements to differ materially from those in the forward-looking statements include, amongst others, currency fluctuations, the global economic climate, dilution, share price volatility and competition. Forward-looking statements are subject to known and unknown risks, uncertainties and other important factors that may cause the actual results, level of activity, performance or achievements of the Company to be materially different from those expressed or implied by such forward-looking statements, including but not limited to: the impact the COVID 19 pandemic may have on the Company's activities and the economy in general; the impact of the recovery post COVID 19 pandemic and its impact on precious metals; there being no assurance that the exploration program will result in expanded mineral resources; risks and uncertainties inherent to any mineral resource estimates; receipt of necessary approvals; general business, economic, competitive, political and social uncertainties; future gold and other metal prices; accidents, labour disputes and shortages; environmental and other risks of the mining industry. Although the Company has attempted to identify important factors that could cause actual results to differ materially from those contained in forward-looking statements, there may be other factors that cause results not to be as anticipated, estimated or intended. There can be no assurance that such statements will prove to be accurate, as actual results and future events could differ materially from those anticipated in such statements. Accordingly, readers should not place undue reliance on forward-looking statements. The Company does not undertake to update any forward-looking statements, except in accordance with applicable securities laws.
In presenting this information, SCC is not making an offer to sell nor soliciting an offer to buy any securities, certifying the completeness or accuracy of this information, or assuming that the recipient is qualified to consider this opportunity. Accordingly, this document does not and is not intended to comply in any manner with any United States or Canadian securities or disclosure laws or requirements. Prior to making or soliciting any such offer, the Company will provide access to such information and will comply with the requirements of applicable securities laws.
SOURCE: Strike Capital Corp.